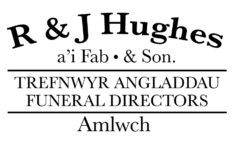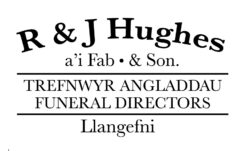 John Hughes & Son, Amlwch
In the early 1900's, John Hughes worked as an apprentice for Griffith Pritchard (Emporium) before taking over the business many years later. He brought his son, Also named John, into the business and subsequently formed John Hughes & Son. They both worked hard and established a business which was (and still is) regarded as professional, caring, and synonymous with that which is best in a family run business. John Hughes (Senior) retired in 1967.
John worked tirelessly to maintain the work his father had started and also served the community not only through the business but in many public and charitable roles.
Gradually, John brought his family - his wife Phyllis and sons Arwel and Ieuan into the business and they subsequently took over the running when he became ill. John sadly, passed away in 2003.

R. Hughes and Son, Llangefni
Established in 1970 by Robin Hughes after being an accomplished and time served Stonemason. Robin worked as an apprentice with Thomas Owen Williams, Monumental Mason in Salem Street, Amlwch. After completing his apprenticeship, Robin took over an already established (est 1914) Monumental Mason business in Llangefni. Robin and his son Robert started R. Hughes and Son, Funeral Directors at Monfa workshop in 2000 which had been Funeral Directors premises since 1968 and then added Eilian House as an office which we still occupy today.

R & J Hughes and Son
In February 2020, a new partnership was formed between John Hughes & Son, Amlwch and R. Hughes and Son, Llangefni. Arwel provides, help and support with the funeral arrangements whilst Robin and Robert continue the successful monumental mason side of the business.
Together, they are as passionate in maintaining the high standards, professionalism, family friendliness expected of such a business.