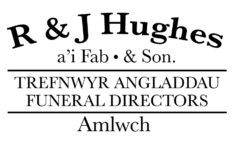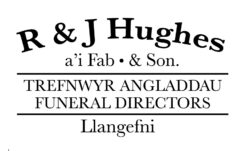 My name is Arwel, I'm the fourth generation in our family to be the owner and funeral director at John Hughes and Son, located in Amlwch, On Anglesey. I'm registered with S.A.I.F and abide by the industry code of practice.
It really is a family business, my mother Phyllis is a co-owner and runs the office. Ieuan, my brother, is also heavily involved with looking after the coroners calls and general logistics and Elaine, my partner, administrates all donation contributions. Helen is the office administrator - as well as a competent funeral director, her help is invaluable to us. We have an out of hours team that have been with us for years and are committed to looking after you and your loved ones at any time of the day when required to do so.

In February 2020, I formed a partnership with my uncle Robin Hughes and his son Robert Hughes of R. Hughes and Son, Llangefni on Anglesey. The new partnership is called R & J Hughes and Son. I provide, help and support with the funeral arrangements whilst Robin and Robert continue the successful monumental mason side of the business.
Our Premises and Chapel of Rests
Amlwch Port, Anglesey.
Our first chapel of rest is located next to our office in Amlwch Port, and has been extensive renovated in recent years to include the reception area and the Britannia chapel. It is tastefully decorated and houses an old alter given to my Father from the Catholic Church which he lovingly renovated and restored.
The reception area allows family, friends and colleagues time to compose themselves and find peace before going into the Chapel to view their loved one or friend. We have found that by using the reception area people are able to go in and view privately and quietly alone or together.

Many services have been held at Britannia Chapel over the years and if you wish, a service can be held here for your loved one. Both doors to the Chapel can be opened and 65 people can be seated. We have an organ and means of playing recorded music.
We appreciate that you may wish to spend time with your loved one at this point and this is of course possible, subject to suitable notice being given.
Llangefni, Anglesey
Our second chapel of rest is located next to our office in Llangefni. We recently purchased the old Penuel Chapel next door and are excited to announce that we will be refurbishing, renovating and restoring the Chapel to its full glory, incorporating new offices, viewing room and chapel of rest. At Penuel Chapel, we will be able to conduct funeral services here which will seat a capacity of 250 people.
With both of our chapels and the newly restored Penuel Chapel, we will also be able to stream live and record every service should the family wish with our up to date and modern AV System.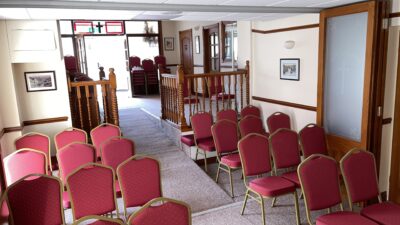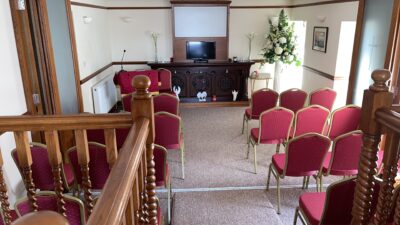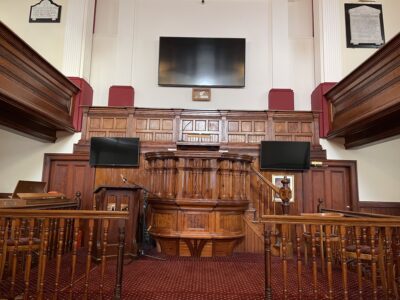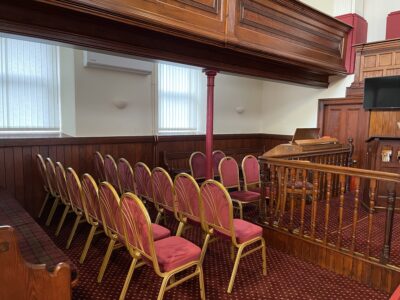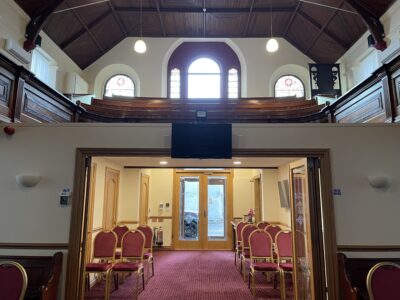 Amlwch and Llangefni Chapel interiors